Did you know that Orangetown is home to its own Wastewater Treatment Plant?
Water from Orangetown homes and businesses passes through the Town's Sanitary Sewer Lines, through 45 pump stations, to reach the plant.  Depending on the amount of rain, the plant treats from 7-15 million gallons per day (That's 5000 gallons per minute on a rainy day!). A series of physical, biological and chemical processes  removes solid and dissolved waste from the water before it is released into the Hudson River via a pipe shared with the adjacent Rockland County Sewer Plant.
Fun Facts About the Orangetown Wastewater Treatment Plant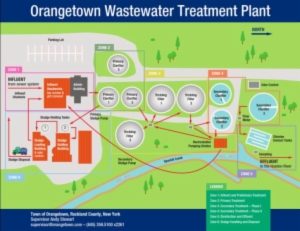 "The Orangetown Sewer Treatment Plant is our community's single largest investment in "green" – cleaning water so it can be recycled into the environment and preparing sludge for composting into soil for landscaping. The public deserves to understand how this critical infrastructure works," said Town Supervisor Andy Stewart.
Mr. Stewart and Chief Plant Operator Ken Skibinski often lead tours of the Wastewater Treatment Facility. Read more about the tour which is appropriate for small groups of adults and students in grades 6 through 12 and is largely outdoors on uneven ground, so dress appropriately if you join. Read what tour participants think!
Below are some pictures from the tour May 19, 2016.